This is going to be a lot different from the usual blog posts. In this one I'm going to vent a little, the kind in which I've worn the ears off of many friends in many pubs many a time. LCD Soundsystem were one of my favourite bands of the noughties. The announcement that they were to split was expected on their third album cycle, it was an inevitability, but the sadness was replaced with delight in knowing that James Murphy chose to end LCD on a high with three great albums, rather than potentially taint their overall discography later in their career. Many bands don't consider this, and their importance & greatness fades with the bland music that they generate long after their heyday. The decision made a welcome change from legends being made out of death, drug overdoses, or whatever other clichés the rock n' roll life brings with it.
Some of my best gig memories were from LCD shows, be it their own headline gigs or at festivals, and with that comes my biggest problem with LCD Soundsystem. They reformed. Within the time it takes many big bands to follow up an album, James Murphy decided to resurrect LCD. So much hullaballoo had been made about their final show in Madison Square Garden; Saturday nights out were abandoned to stay in and watch the live stream, we went to the cinema to watch the documentary/concert film Shut Up & Play the Hits, we bought the expensive vinyl package and DVD tie ins. I knew he would still release music under the LCD moniker, and that was fine, but to go back on this bold move felt like a con. I like my rock stars and artists to have commitment and integrity, but with this choice I didn't see either. It detracted from my love of their past glories, and even in Primavera 2016 I couldn't muster up the enthusiasm to just let it go and enjoy the show. When the songs come on shuffle now I tend to skip them. I wanted to love them still, but I struggled to rekindle my love for them.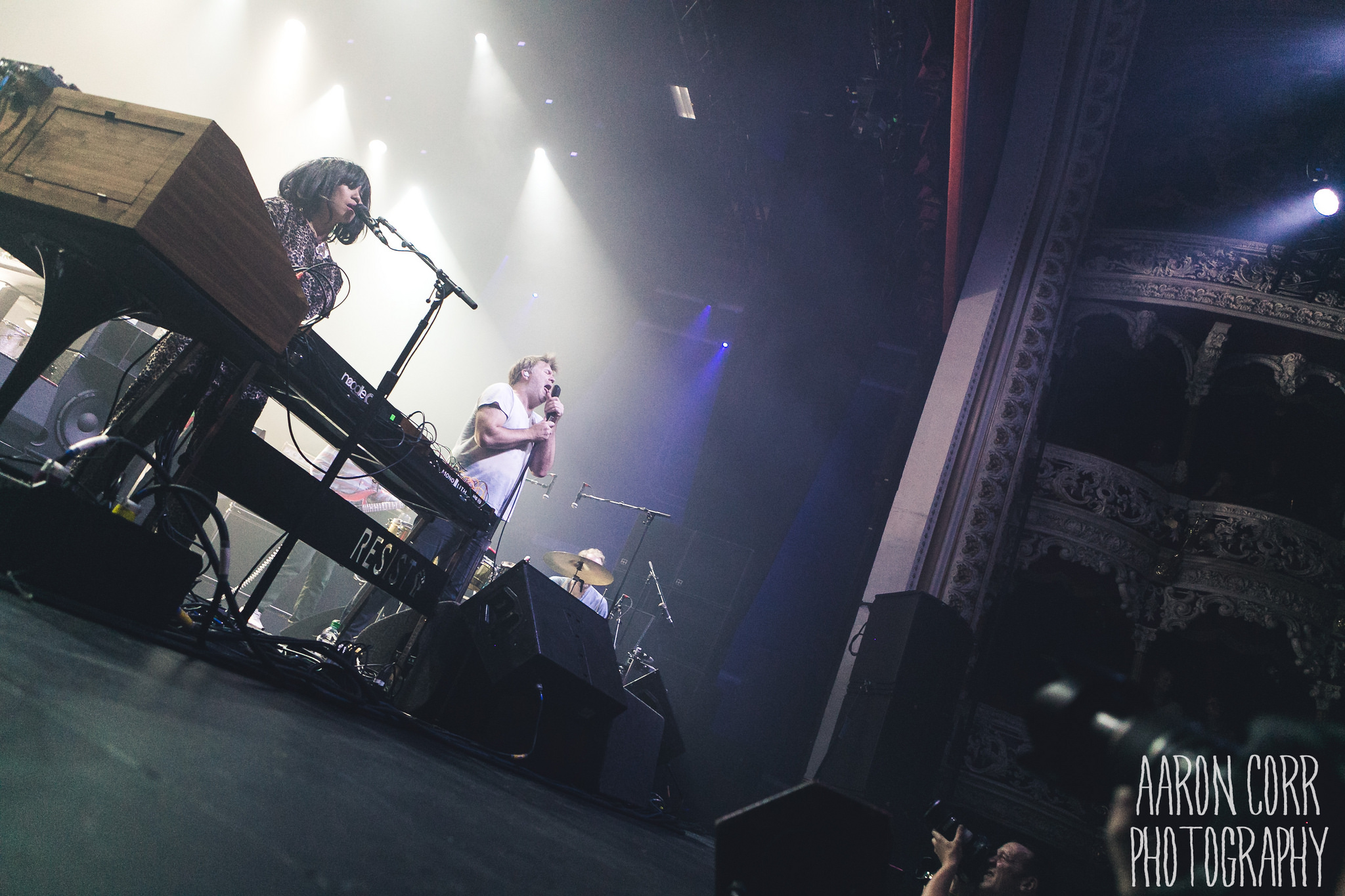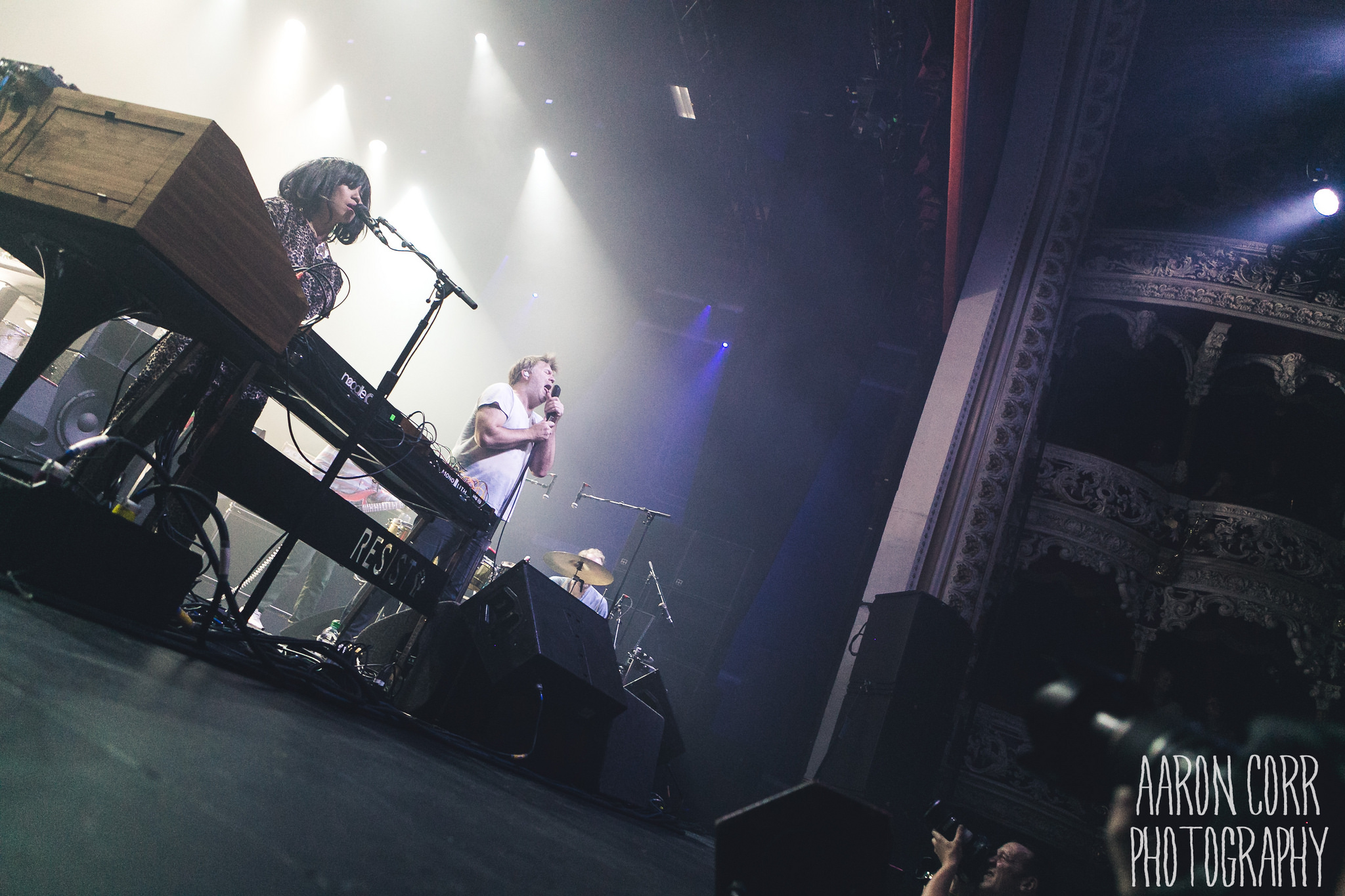 Now there is a new album, of which some songs have been tempting me to come back and join the party. It's not perfect, it's not their best album and it's nothing revolutionary. It is simply LCD doing what they do well. With the new tour off the back of this album I had a desire to shoot their show but it was looking like I'd missed the boat to get my name down for it. A last week change to The Thin Air roster for their Olympia show was to my advantage and I got to go shoot them. I looked forward to capturing the hanging disco ball lighting them up as I'd seen many cool photos of this from Electric Picnic. I had a two song limit, which wasn't too bad since they've long songs. The issue during the shoot was that the lighting was pretty crap during the first song. Lighting improved during the second song but the disco ball never was used to our advantage. It was still tough to get well lit close ups of Nancy Whang, Al Doyle, and to a lesser extent Pat Mahoney.
I stayed for the rest of the show of course, and I did enjoy it a lot more than my experience as "the grumpy one in the crowd" at Primavera. The band drank far more on stage than I'd ever noticed before, getting wine top ups from roadies mid-song, James flipped though lyric sheets to the side of him. Things have certainly changed, but they still sound as good as they did pre-split and I guess that should be the most important thing. Maybe slowly but surely I'm coming back around, but it will never be the same.
Click here to see full gallery, and to read a better review of the show than I can express check out my mate Bernard's GoldenPlec review.