This festival marked two firsts for me. My first overnight festival where I'm doing photo coverage, and my first Body & Soul. I've always wanted to go but it's right in the middle of a holiday blackout with my day job and I hated the idea of ruining the fun by leaving the festival early. What I've found is I've wasted a few trips there and it's time to make up for it.
GoldenPlec sent me with resident reviewer Bernard and we roadtripped to Ballinlough Castle Estate to be greeted with a quick entry through secutiry and in to the Us & You Eco campsite. My tent was set up in no time and I was amazed to discover all the relevent bits were still there since I last used it at Electric Picnic and couldn't remember what state it was in. From there it was straight in to watch some bands, starting with Jafaris in the forest on the Pagoda stage. I followed up with Talos on the main stage and pretty much kept there for the day, covering Anna Meredith and true headliners of the night, Metronomy.
It's now just over a year since I took some portraits of frontman Joseph Mount, and the release of their fourth album. At the time he said he wouldn't be touring the album and I was a bit heartbroken. A year later and a handful of gigs lead into festival season and the band make their return to Ireland. I can sacrifice a headline show in Dublin to see them again at a festival. I've only ever caught the band at festivals, since they've rarely played their own shows in Ireland, so this wasn't a bad thing.
They were in flying form and had amazing lights to shoot them on stage. They segue their first three songs together, the same opening three songs from Summer 08, and as I go to leave I get the nod from our photographer liaison that we have one more tune to shoot. A cool mistake and one I wasn't going to debate. This was far better shoot than at Longitude 2015, when they were on a higher stage and where wide angle options were not great. The Body & Soul stage is a cool one to shoot on, but the little raised bit in the centre does get in the way of a good few wide angle band shots from the weekend. That gripe aside, it was a great start to a weekend's shooting.
After waiting around for final act of the night, Parcels, the festival organiser came onstage to announce that the band was here but their equipment stuck in Berlin. They were replaced by Le Cool. This was disapointing as I was really looking forward to seeing what Parcels were like. I just stayed for one song as it was time to unburden myself of the camera bag and go enjoy the festival's sights at night.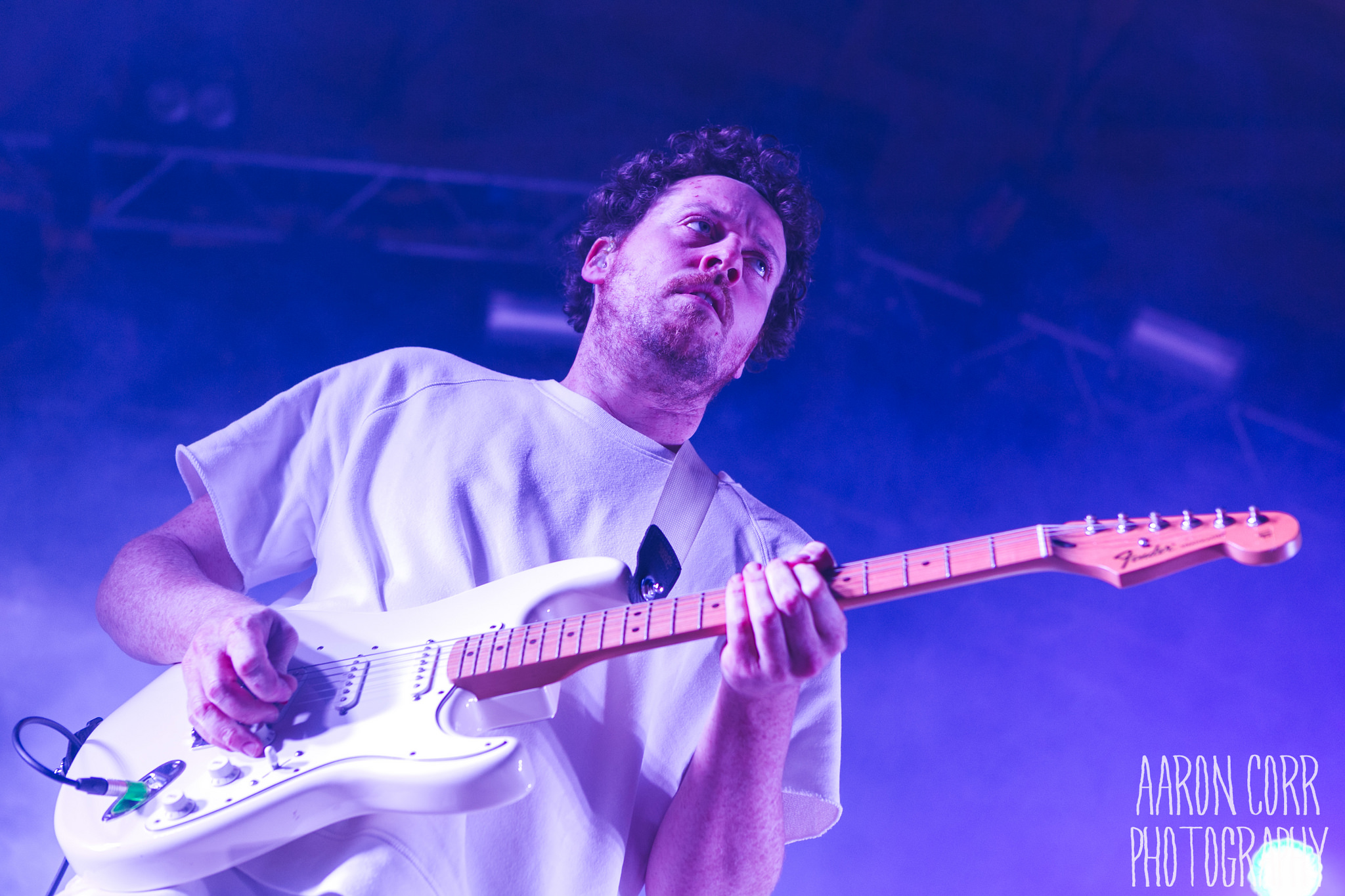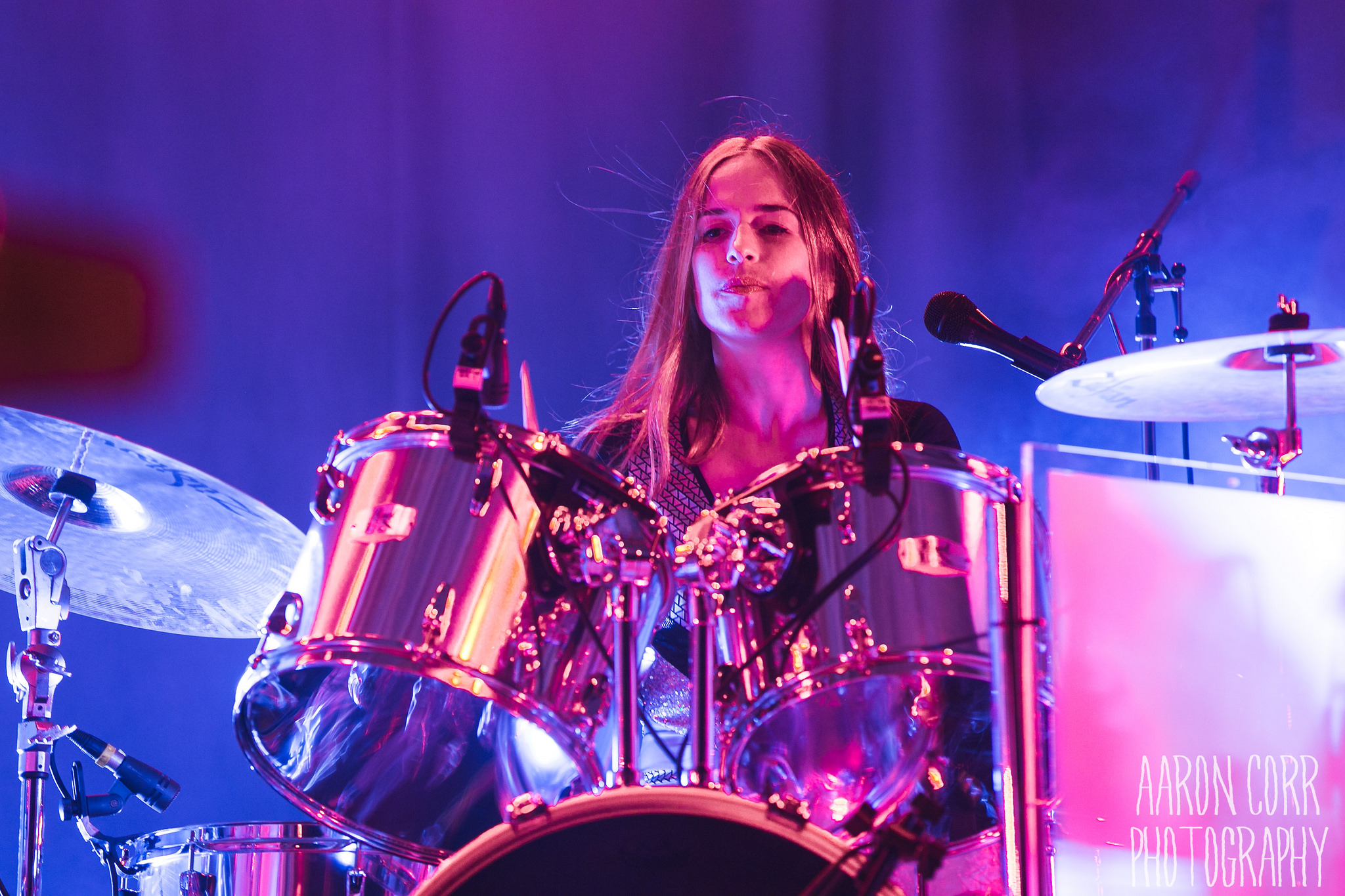 Saturday began with photographing Loah. I've seen her twice live since I did some portraits with her for Plec Picks 2015 but never shot either of those shows. It was great to capture her, bright and colourful on stage on a sunny day. Next up was Icelandic band Mammút. I didn't hang around to watch their show, they didn't really do much for me. I went to explore the festival and get some people shots around the walled garden.
I returned to the main stage again to photograph Lambchop. There was nothing interesting to shooting them so I moved on during the second song and didn't stay. The day was redeemed by La Femme, a French new wave band whose only song I knew was the one featured in the Renault adverts recently. They put on a great show, swapping instruments, vocals, dancing around the stage, smoking cigarettes and looking quintessentially French.
The day was further improved by Sleaford Mods arrival. This was the first time I've caught them live and they were cool to photograph, primarily vocalist Jason Williamson's passion in delivering the words on stage. I always have a laugh at Andrew Fearn just standing around the back smoking, drinking and pressing play on the laptop.
Bonobo were my last act to shoot on the main stage. At first I thought it would just be smoke and silhouettes until their vocalist came onstage during the second song and saved the day and the photos. She was beutifully lit and greatly improved upon what I was getting from the camera beforehand. The night finished with King Kong Company in the Midnight Circus Tent. I tried to shoot in this tent earlier but it was just DJs, low lighting and heavy on red lights. Not helped was the extra addition to the stage at the front which made for a tight squeeze in the centre of the pit, and made it a no go area for photographers according to security. Shots were limited for movement as a result, and the lighting didn't get a whole lot better, with dry ice and heavy yellows and purples washing everything out on stage.
Sunday was a better day, starting with Æ MAK. This is my second time photographing them, after their support of Warpaint recently. I nearly didn't make the set as I packed my tent to drop to the car, leaving my camera gear in Bernard's tent and locked with my coded lock. When we returned the combination wouldn't work suddenly and we were stuck. I managed to squeeze my hand in what little could be zipped open, reached his bag and he pulled out his swiss army knife from the front of it. A zip was removed and we were in. All was well again.
Ailbhe Reddy followed Æ MAK's performance and later on I returned for Sinkane. The big clash of the day came in the form of the two bands I wanted to see most that day. Austra and The Moonlandingz. Due to band cancellations, the Midnight Circus timetable was given a reshuffle and hence the clash. I had fifteen minutes between Austra beginning and Moonlandingz taking to their stage. I was not missing them for the world. I stayed for half a song for Austra, hence how limited options I had from their set. I took a few shots and ran.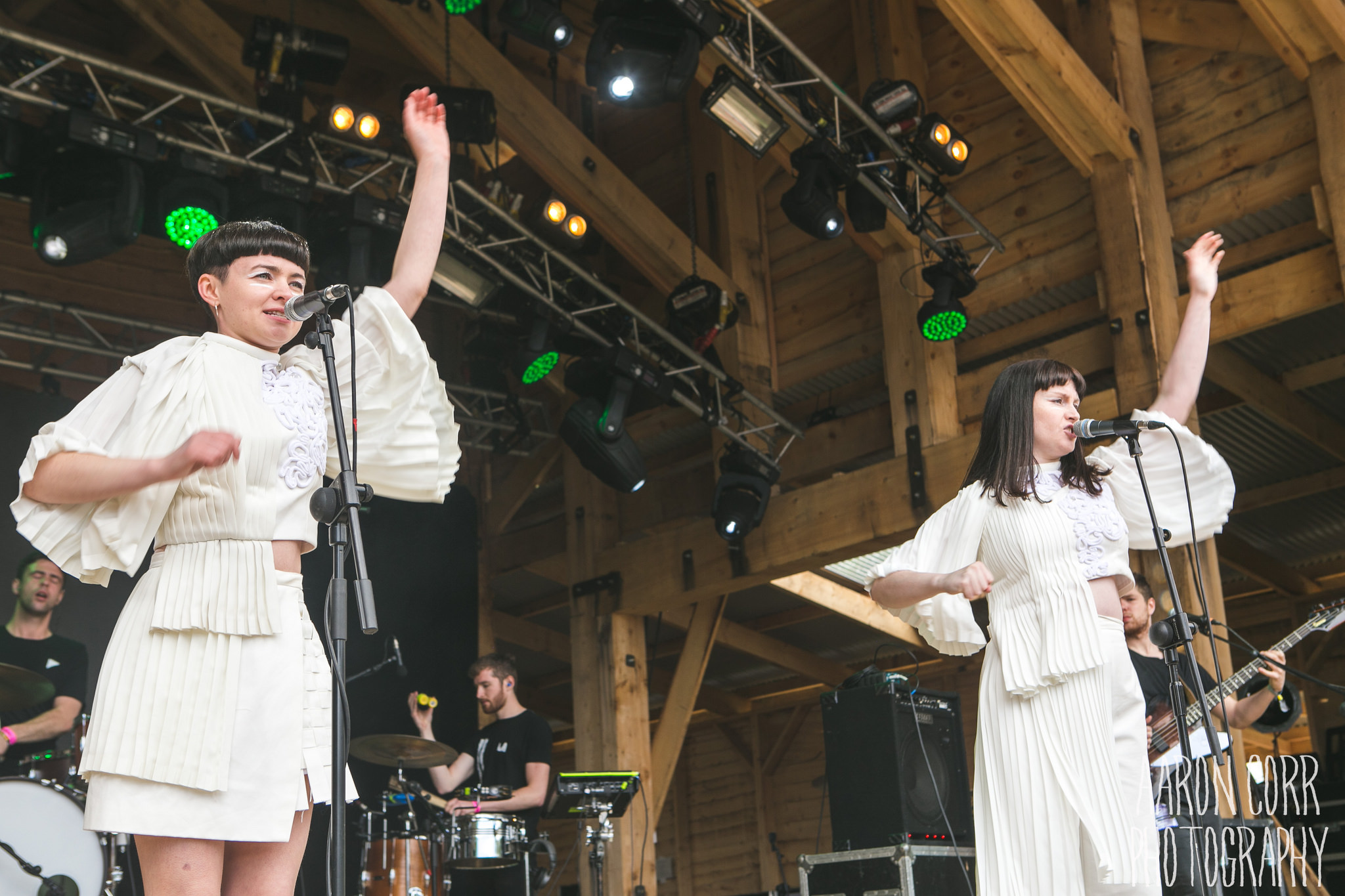 The Moonlandingz were so good they deserved a set all to themselves when I submitted them to GoldenPlec. Lias, aka Johnny Rocket arrived on stage cling film wrapped to his mother, walking backwards to his microphone. From there she escaped and he took off, launching to the front of the stage, stalking the crowd, dribbling beer and pulling all sorts of shapes an poses. They are such a good band to shoot live, and I love the music and attitude. Like Fat White Family, they are a different beast live to on record. Unfortunately Rebecca Lucy Taylor was absent for backing vocals and her duet on The Strangle of Anna, opting to stay at Glastonbury it seems.
The second to last band I shot that weekend was Hundred Waters. This was another band that just didn't stir me at all. I found the singer to seem a little shy, sometimes seeing the cameras and turning around. It could have been coincidence but to me and a fellow tog is had an air of unconfidence. Maybe we were wrong.
The last act of the festival, Birdy Nam Nam, cancelled and the headline slot was given to Mykki Blanco, upgraded from the Midnight Circus tent. This was of much benefit given that stage's set up. We were advised that we could shoot the whole show as he loves photographers. I chose to stick with the usual three songs as it was cold, late and I wanted to get home to bed as I had work in the morning. Unfortunately bed was to wait as he had a DJ play for half an hour before he came on stage. When he did arrive he was like whirlwind, boucing around the red light soaked stage, picking up props and roaming the stage. I left my zoom lens in the bag and kept to my 24-70mm for the whole set. By the third song he jumped into the crowd and got them to form a circle pit. This was the best part of the shoot and a great way to end the weekend.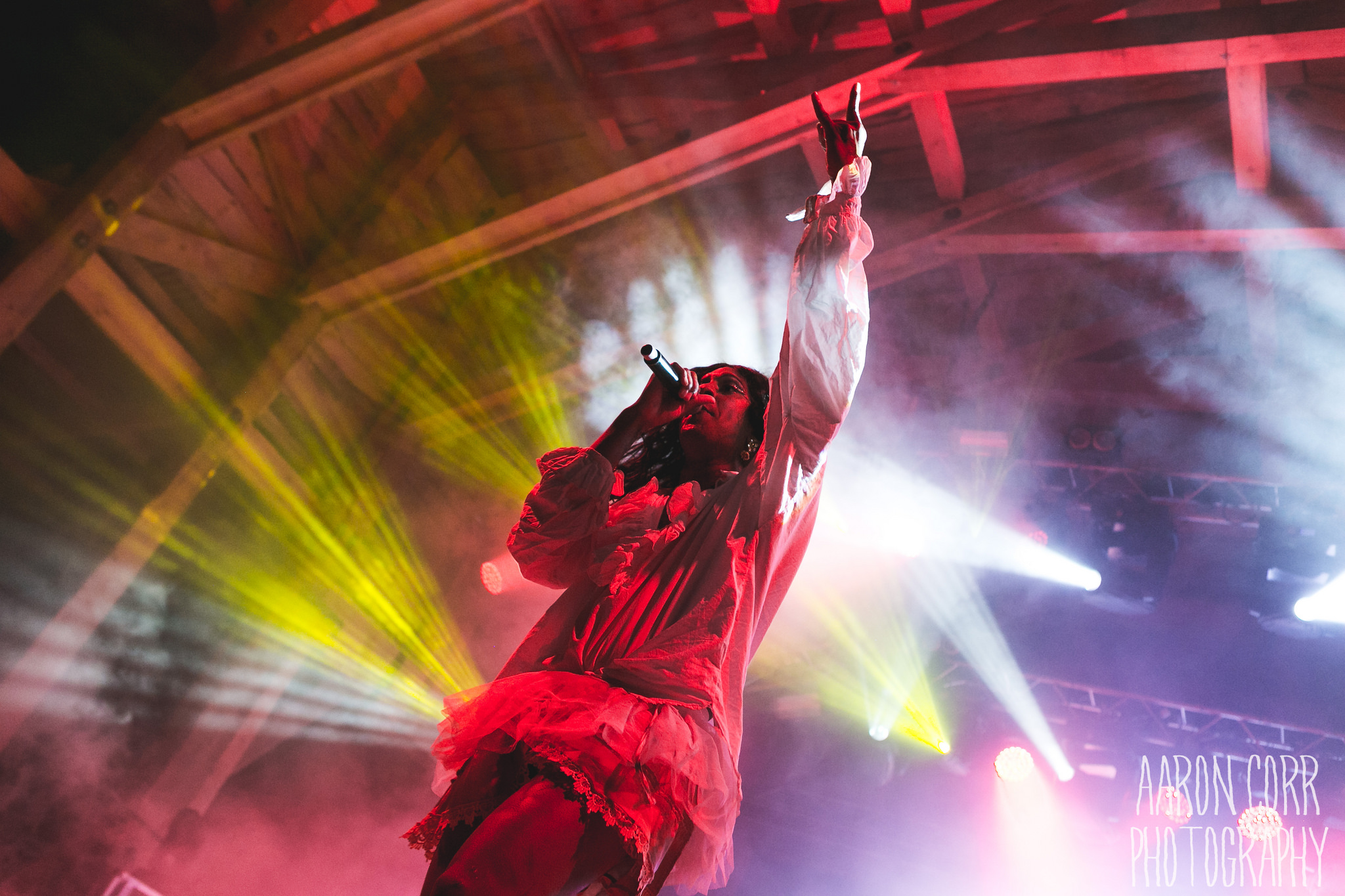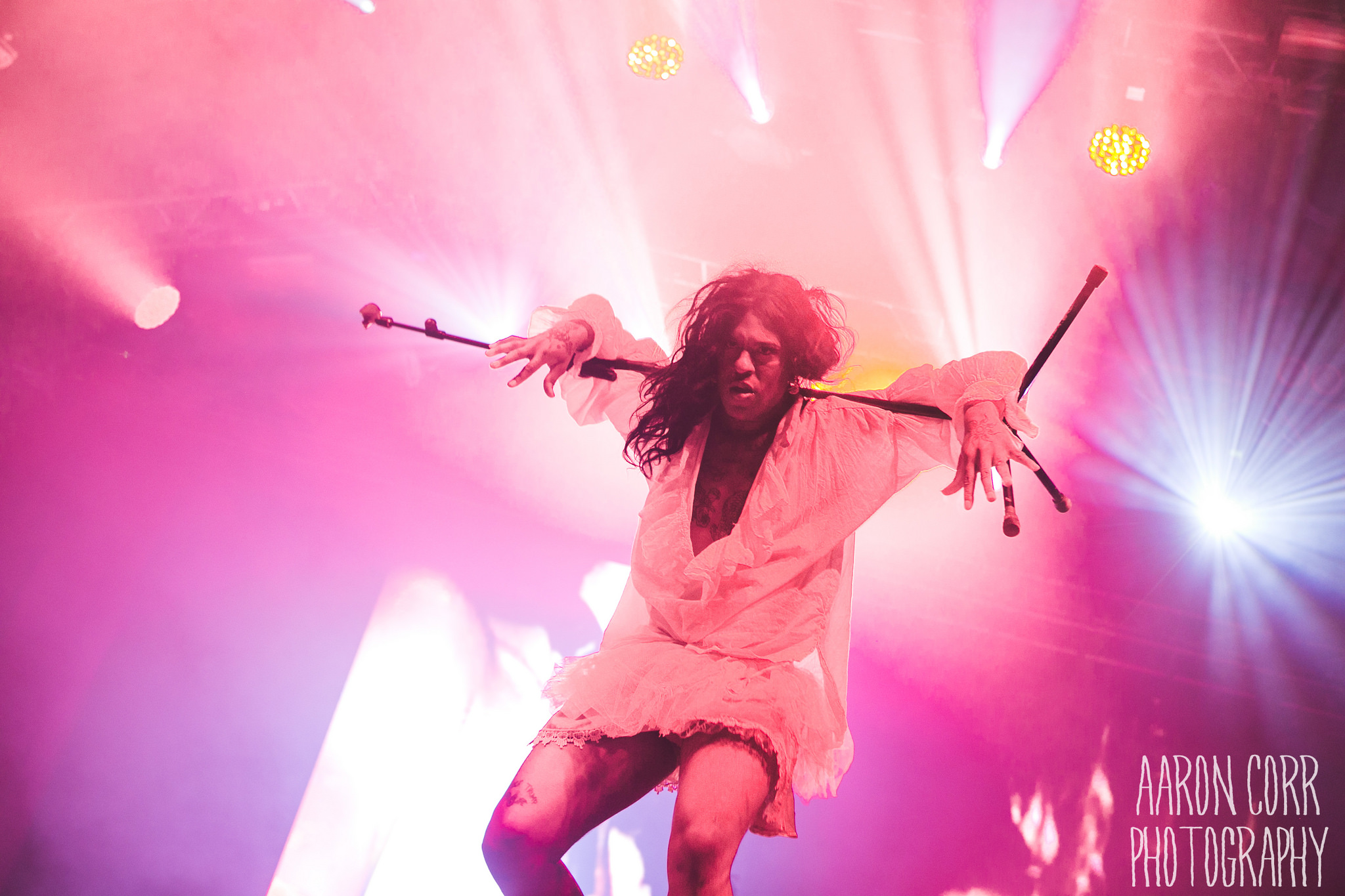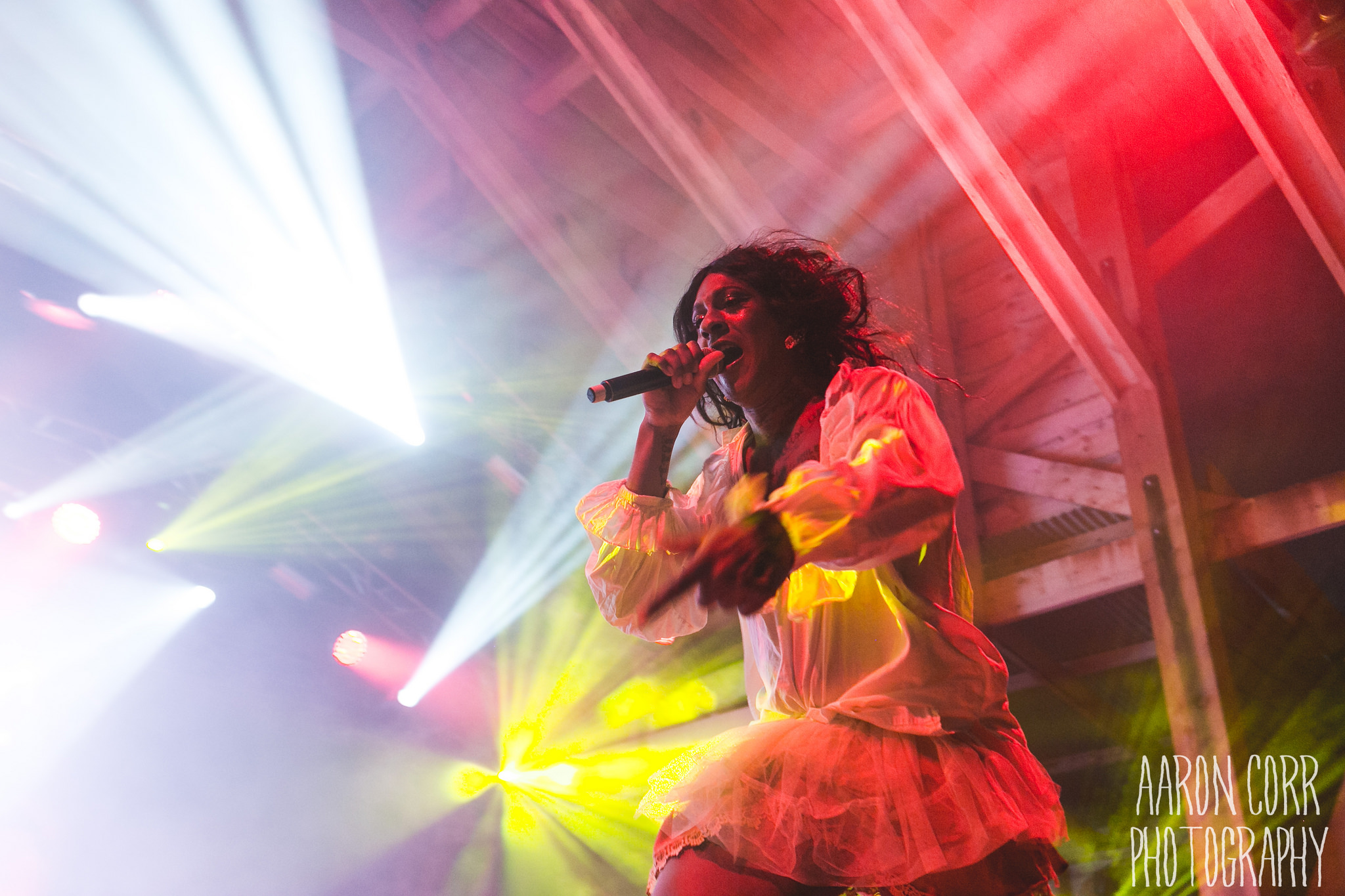 So I've talked about the bands a bit, now it's time to show off the people, the festival goers and music lovers. It's a great festival for people to dress up and not give a damn. I didn't realise there was so much going on around the site to encourage this, secret parties, raves, masked balls and wine parties. I didn't see the half of it. Maybe next year.